Take steps to Live Distance Learning.
Last month we talked about the 10+1 things when Coaching Through Crisis. This month, we will be putting that list to work by demonstration in Live Coaching Sessions, unscripted and unrehearsed.
We encourage you to start taking your own steps this month by learning new coaching skills that will build your resilience. All of our programs are delivered in a live distance learning format and taught by world-class ICF certified coaches.
Ace the International Coach Federation (ICF) Knowledge Assessment exam. Written by two of the pioneering coaches who wrote and developed the CF Core Competencies, this program is designed to significantly boost critical thinking and understanding of the Competencies and Ethics. ~ April 28
ICF Core Competency Hours: 9
SHRM PDC's: 9 credits
A streamlined approach to the programs you will need to achieve the required 60 hours of Approved Coach Specific Training Hours for ACC, Associate Certified Coach, accreditation plus all 10 hours of mentor coaching required for certification. Bundle and save with the Fast Track program. ~ May 6
ICF Core Competency Hours: 68
SHRM PDC's: 68 credits
The 5/5/5 Coaching Skills Training Program™ draws from the most advanced knowledge-base in the coaching field and is translated into a simple, intuitive and highly transferable framework for busy executives and managers. ~ May 6
ICF Core Competency Hours: 12
SHRM PDC's: 12 credits
Challenge yourself to coach at a whole new level in an engaging and supportive environment. Gain confidence in your coaching abilities and observe a variety of coaching styles while actively participating in live coaching sessions. ~ May 6
ICF Core Competency Hours: 20
SHRM PDC's: 12 credits
Courtesy of @tussenkunstenquarantaine Instagram, "between art and quarantine"
We will be demonstrating Live Coaching Sessions, unscripted and unrehearsed. During this webinar, experienced coaches tackle real challenges without scripting or, rehearsal. You will observe coaches practicing in the moment. Watch how they support the coachee as the dialog unfolds.
After the coaching session, there will be time for feedback and discussion. Don't miss this unique learning opportunity.
Wednesday May 20, 2020
11 am Pacific / 2 pm Eastern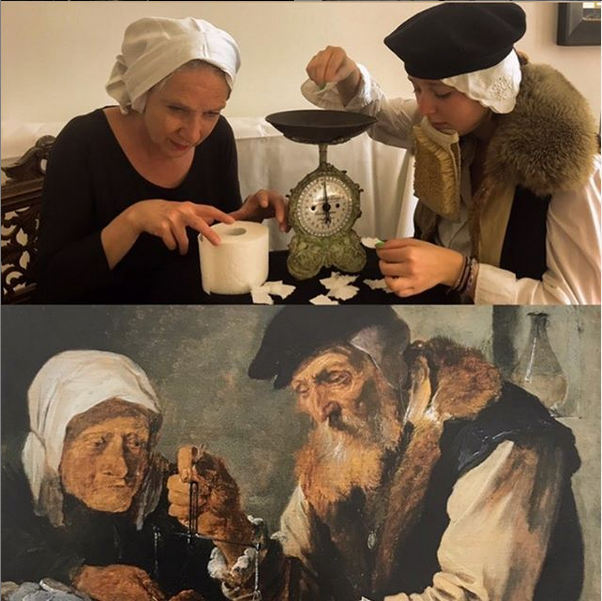 Last month's webinar, is available online including the list of 10+1 Things You Need when Coaching Through Crisis. Here's a small excerpt:
2. Shift their fear to facts – Ask: What do you know for sure?
It's easy to focus on fear because it's available - the shift we need is to move from fear to facts. A powerful question to ask is "What do we know for sure?" We know we have this fear somebody might get ill. What are we know for sure is they are not sick today. What's the truth of today? What's the what's the truth in the moment.
Coaching Resources & Program Help
We've created an array of resources to support new and experienced coaches. Before you scroll through one more page on Etsy, browse our library of coaching guides, videos, and articles.
If you have any questions about us, our programs, resources or coaching, please get in touch. Our dedicated Program Advisor is here to help.